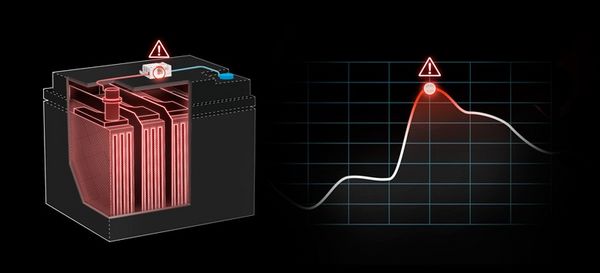 BCS -Battery Control System
Why Should I Use a Battery Control System?
The battery is the central element inside of an emergency lighting system. A battery breakdown leads to the loss of all safety functions.
Five essential arguments for a Battery Control System
The interval of the mandatory annual service/battery duration test is too long to detect a faulty battery block early.

The operating reliability of the battery is checked at any time.

A single failed battery block may damage permanently the complete battery set. The complete replacement is associated with very high costs.

Higher safety by proactive protection.

Costs minimisation.
Are you sure your emergency lighting system is ready for use in case of an emergency?
Emergency lighting must be immediately ready in case of an emergency. If the power fails they have to ensure a safe evacuation of a building in a specified time. This requires not only the continuous observation of emergency-/safety-luminaires and the switching technology, but also monitoring the battery as the backup power supply.
Customary systems only monitor the battery symmetry. This method is not meaningful, since in this case the battery pack is only monitored in 2 groups with 9 blocks. An individual block monitoring isn't done.
The INOTEC BCS-system monitors and logs each individual battery block, their voltage and temperature. All battery block date can be displayed comfortably at the controller unit and the higher level monitoring software.
Exceedance of the specifiedlimits initially creates a failure and might lead to a safety shutdown of the charger. Through the early identification and replacement of a single defective battery block the damage of the entire battery set can be effectivey prevented, thus prolonging the life of the battery.
Are you always doing the required battery tests documentation?
Although the total voltage, charging current and ambient temperature of the battery set has to be monitored in accordance with EN 50171:2001. These values are not sufficient to determine the operational status of the backup power supply.
For this reason the EN 62034:2013 calls for an annual duration test over the full rated duration, including the measurement of the individual battery blocks, to check the remaining battery capacity. But this annual test simply shows the condition of each individual battery block in intervals of 365 days. An information about the condition of the individual battery blocks in the meantime can not be given.
The draft E DIN EN 50171:2013 specifies that the voltage of each battery block has to be measured and recorded. In case of using a system like the INOTEC BCS this monitoring system must meet the following requirements:
Periodic monitoring of the battery block voltages (6.11.3.a)
Failure messages at a deviation of the battery block voltage (6.11.3.b)
Only manual resetting of failue messages
Logging the battery block voltages during a duration tests in 5 minute interval
Monitoring the battery temperature
BCS advantages
24/7 battery monitoring of individual blocks
Daily recording of individual block voltage and temperature
Logbook for battery date
Safety charger shutdown at deviation from the limits
Meets already future requirements
Cancellation of a battery duration test at deviation from the limits
Simple installation
Observation of up to 36 battery blocks