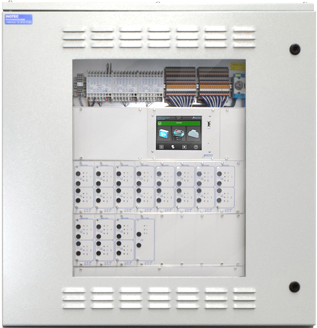 Central battery system CPS 220/48.1
The CPS 220 / 48.1 series covers various load requirements and housing sizes. Joker-Technology, individual lamp- and circuit monitoring are our standard. The maintenance-free central battery system includes automatic function monitoring and individual luminaire monitoring without additional data-line.

Modular design, various enclosure sizes for main-, substations, battery-racks and battery enclosures
Up to 96 circuits (48 out of the main system/ 48 out of the substations with 20 addresses can be supplied
Low maintenance and service costs due to central monitoring of stations and all connected luminaires
Automated and manually releasing function test facility with logbook for status and failure information
Earth failure measurement and test facility
Isolation terminals for easy earth failure measurements
Galvanically isolated internal- and external bus-system
Sealed lead acid gas recombination OGI-batteries with >10 year design life
Seperated monitoring- and change-over devices for maintained-/non-maintained light
Patented "JOKER-Technology" function for mixed operation of maintained, non-maintained and switched luminaires on one line
switching- and monotoring mode adjustable individually per circuit
Network-compatible, graphics based controller
5,7'' TFT- Display
Intuitive, single button operation
Password protected programming
Integrated network connection interface (InoWeb)
USB-interface to

load / save the system configuration
load / save the circuit configuration (operation mode, monitoring depth, destination texts…)
connect a standard printer (PCL-compatible) or keyboard

Administration of up to 96 circuits (max. 1920 luminaires – 20 addresses per circuit)
Automatic function monitoring of system including individual luminaire- and circuit monitoring without additional data-line
Integrated logbook for central compilation and > 2 year storage of all system related data
Circuit-/luminaire function modes free programmable
Various languages available
Battery Control System (BCS)
You can download the standard documentation for the selected device here.
The download is restricted to order numbers, which have the device included.