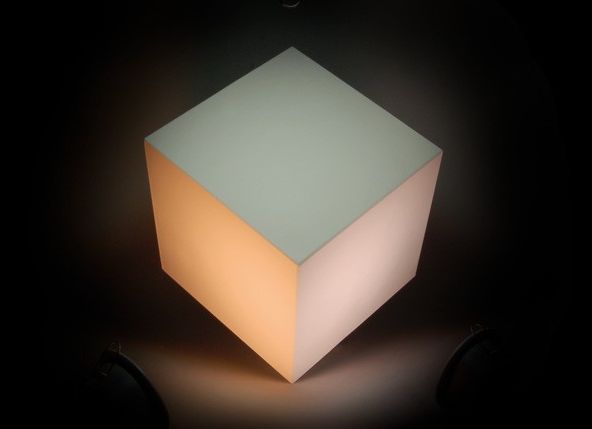 T

ranslucent-


E

mitting-


S

urface
The INOTEC downlights with TES technology
What is TES?
People experience their surroundings not just as dark and light, through light and shadows, but also through colour. The light given off by luminaires has its own colour, known as the light colour. It is determined by the colour temperature in kelvin (K). The higher the temperature, the cooler and more blue the light colour appears.
Thanks to the TES (Translucent Emitting Surface) technology developed by INOTEC, it is now possible to match the light colour of the safety lighting to the general lighting. There are three standard light colours available for this (2700K, 3500K and 4300K).
INOTEC's patent TES technology also makes it possible to create pleasant night-time and/or corridor lighting in care centres and accommodation, such as that required for corridors and stairways by Germany's HeimMindBauV, the law governing the minimum building requirements for nursing and retirement homes.
Luminaire options
High-quality aluminium recessed spotlight
The elegant and compact recessed downlight SN 9100, made from high-quality aluminium, can be discreetly and unobtrusively integrated into practically any ceiling design. The INOTEC TES (Translucent Emitting Surface) technology ensures, for the same power consumption, a 20%-higher luminous efficiency compared to conventional warm-white power LEDs. A back-lit, light-emitting disc creates a rotationally symmetrical and uniform emission pattern. The SN 9100 is available in a choice of three different light colours (2700K, 3500K and 4300K) and, therefore, is not only ideal as a safety luminaire but also meets all the requirements for pleasant corridor lighting.
Elegant aluminium surface-mounted spotlight for inside and out
Its modern design and high IP65 protection category mean the new surface-mounted spotlight SN 8040 is ideal for both prestigious and functional areas. As with all of INOTEC's new developments, this luminaire makes use of the most up-to-date lighting technology. And you have a choice of the new INOTEC TES light source or a 4x1W LED light source. The housing, made of high-quality aluminium, not only has an eye-catching design but also offers enough connection room for fast and easy installation. Thanks to the high-quality powder coatings used by INOTEC, the SN 8040 can be coloured to match the architecture. All the RAL colours can be recreated in a stylish, structured finish.
Universal surface-mounted spotlight with a flat design
Innovative lighting technology, easy installation and a flat design – these are the features that characterise the new safety luminaire SN 2040. Different light sources, optimised for the widest possible
range of structures, make the SN 2040 a universal safety luminaire. Whether for emergency routes, surface illumination, or mounting heights of up to 24m, the individual lamps ensure standards-compliant illumination. With its rear cable entries, and optional knock-out side entries, this luminaire's construction also takes into account the trends and changes in electrical installation. Because of the great flexibility, people often resort to an exposed tube installation, even in the case of architecturally sophisticated buildings. The new SN 2040 offers all the advantages of surface mounting, while its flat design blends unobtrusively with the architecture.
Connection versions
For connection to INOTEC central- or low- power battery systems acc. to VDE0108 and EN50171
EMC protection acc. to EN55015
230VAC ±10% / 220VDC ± 20%
Incl. addressable LED- supply unit for INOTEC individual lamp monitoring and JOKER- technology LEDs dimmable in mains operation or
Incl. addressable high frequency ballast for INOTEC individual lamp monitoring and Joker-technology
For connection to central- or low- power battery systems with circuit monitoring acc. to VDE0108 and EN50171
EMC protection acc. to EN55015
230VAC ±10% / 220VDC ± 20%
Incl. LED supply unit or
Incl. INOTEC high frequency ballast
For connection to generator NEA-systems acc. to VDE0108 and EN50171
EMC protection acc. to EN55015
230VAC ±10%
Incl. addressable LED- supply unit for INOTEC individual lamp monitoring, LEDs dimmable in mains operation.or
Incl. addressable high frequency ballast for INOTEC individual lamp monitoring
For the connection to INOTEC 24V-systems, -24V BUS-substations and -24V circuits to VDE0108 and EN50171
EMC protection acc. to EN55015
24VDC ±20%
Incl. addressed (factory-set) LED- supply unit for INOTEC individual lamp monitoring
All advantages at a glance
Light colour can be adapted to the general lighting

Up to 20% more efficient than standard warm-white LEDs

Especially applicable in retirement homes, more light output, but less glare
Suitable for night- or orientation illumination, 5lx according to DIN EN 12464-1

Suitable for circulation areas and floors without traffic, 50lx according to (German) ASR A3.4