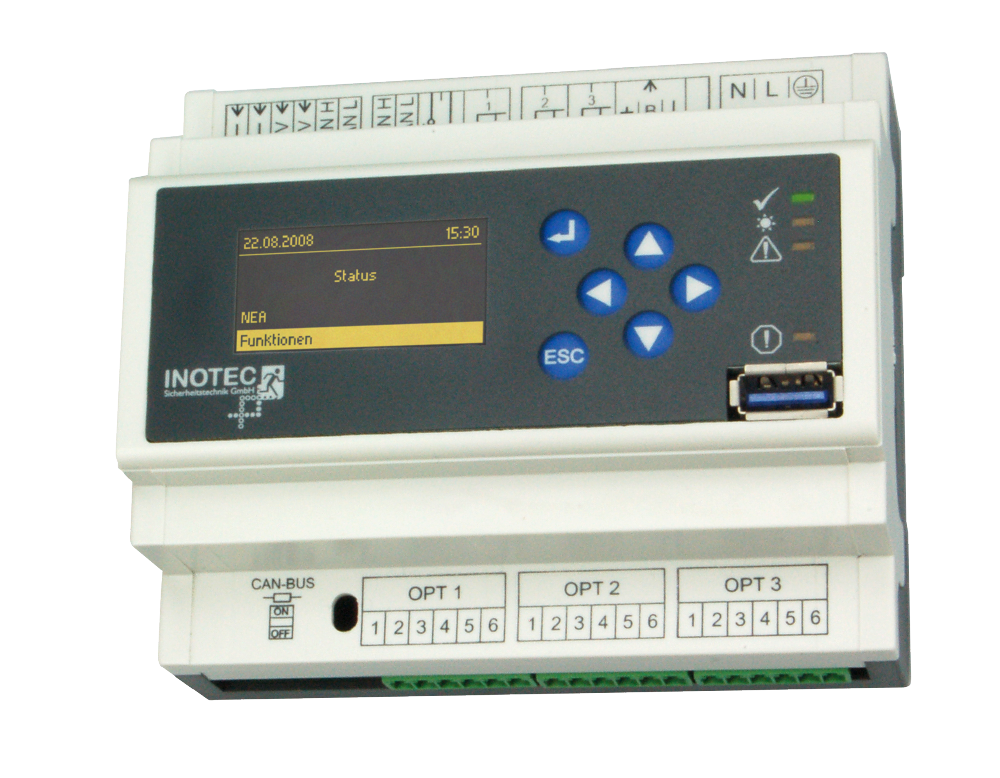 NEA-ICU
For safety lighting purposes (Diesel-) generators or a second grid feed (AC) of the energy supplier are allowed next to battery-supported systems according to DIN VDE 0100-560.
But in this case the inspection requirements according to DIN EN 50172 as well as DIN V VDE V 0108-100 need to be fulfilled. This can be done manually, but for larger installations it does involve higher time exposure and costs.
When you use the INOTEC Controller Unit for emergency power systems (NEA-ICU) as an automatic testing system for safety lighting, the recurring maintenance effort decreases significantly. The results of all performed tests are recorded in detail in the integrated logbook.
The installation of the emergency generating system for safety lighting purposes has to be done according to DIN VDE 0100-560. Thereby up to 20 luminaires per circuit need to be secured accordingly in a fire compartment. At the controller more luminaires can be monitored via BUS connection as far as the safety in case of a failure of the controller is still secured. Thus up to 99 luminaires (in total up to 297 luminaires) can be tested accoording to their function and monitored per option slot.
In this process the NEA ICU system supports the free allocation of the opertation modes (maintained-, switched-maintained and non-maintained) for each luminaire in the circuit. And this can be configurated centrally without a change in luminaires. This does not only lead to a significant reduction of final circuits, but also the cabling, installation effort, fire load and costs are minimised.
Advantages at a glance
Ethernet interface for subordinated visualisation
USB interface for comfortable programming of the device configuration
BUS connection for communication with INOTEC BUS devices
24V sense input for detecting mains failures, expansion possible by BUS components (LSA modules)
Voltfree failure message output, expansion possible by RIF
Housing made of high-quality thermoplastic
Standard distributor housing for DIN rail mounting
Software update possible by USB interface
Modbus integrated
Integrated webserver
Connection to INOView