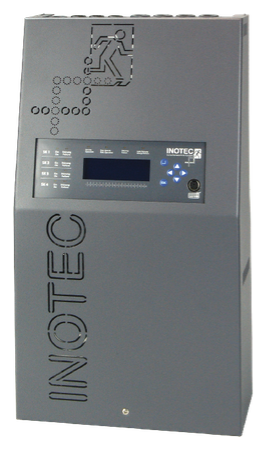 CLS 24.1
Presenting the CLS 24 system, INOTEC sets a new trend as an innovative manufacturer of emergency lighting that reflects the market development for lighting systems and the current general situation concerning the respective regulation.
The application of LED in emergency lighting, which offers great advantages in terms of longevity, applicable temperature range and energy consumption, required adaptations to the current engineering systems. The new MLAR of 11/2005 makes it possible to implement new concepts.
The independent CLS 24 system supplies only lights within a certain fire area. Thus, no expensive supply lines are required and a very high safety level can be obtained with low mounting costs.
Therefore, regarding the required safety level/safety target, the CLS 24 system combines the advantages of the decentral single battery systems and the high operating comfort of central battery systems in an ideal way.
Safe supply of the safety and emergency lights in the mains and the emergency circuits are guaranteed by the CLS 24 system as well as automatic testing of the system and of every single luminaire (max. 20 per exit).
We also include the well trusted "Joker-technology feature" asynchronous balanced mode of stand-by lighting, switched continous lighting and coutinuous lighting of the same circuit in the CLS 24 system.
24V emergency lighting system with automatic observation of the system and connected luminaires without additional data line. To supply 24V INOTEC LED luminaires.
Self-sufficient system with "JOKER technology function": combined operation of non-maintained, maintained and switch-maintained luminaires.
Luminaires can be programmed, addressed and dimmed individually via the controller.
Integrated logbook for recording all data for a period > 2 years.
Controller with 4 x 20 characters plain text display; configurable in various languages.
Control, management and failure detection of 20 luminaires per final circuit.
4 final circuits in protection class III (SELV) for up to 20 luminaires.
2 input switches can be assigned to each luminaire.
Assignment to programmable dimming values also possible.
Status info of system and luminaires in plain text and by LEDs.
Remote switch for blocking system.
Integrated InoWeb interface (optional).
Volt-free signalling contacts for external status display.
Luminaire destination over control unit search function or can be chosen manually.
Videos
CLS with INOTEC Konfigurator: Example
CLS 24 or self-contained luminaires