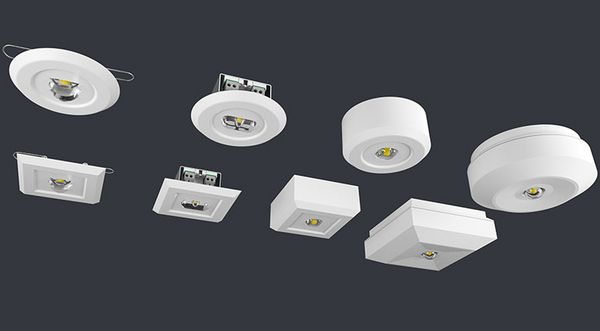 The new INOTEC Downlights
Lighting technology for every application
At light & building 2018, the new INOTEC downlight series was presented to the trade public for the first time. The emergency luminaires have been available since the beginning of June 2018 and have since been planned and used in numerous projects.
The new downlights are housed in top quality, powder coated die cast aluminium. With a fire load that is ten times lower than comparable plastic safety luminaires made of polycarbonate, these luminaires are ideal for use in escape routes.
The understated and modest design blends inconspicuously into existing architectures. Both the flush and surface mounted luminaires are available in round or square versions and can be painted in any RAL colour on request.
Looking for the suitable Downlight?
Find the right downlight for your application with our Downlight Selector!
Simple, fast and intuitive to find the right downlight for your application.
Secondary optics are used to take the best possible advantage of the LED luminous flux. In some cases, the optics were developed and produced specifically for this range of luminaires in collaboration with a leading optics manufacturer.
Thus ensuring the efficient illumination of escape routes or areas with different mounting heights. Practical luminaire spacing with the lowest possible current consumption was a key area of focus. This reduction in power needs offers huge benefits when planning projects, especially with regard to the CLS 24 and CLS FUSION decentralised emergency lighting systems.
Spotlight areas that require enhanced lighting under EN 1838 can also be illuminated at 5lx vertical illuminance.
A modern multi-chip LED is the centrepiece of each luminaire. It accommodates four LED chips in one housing. INOTEC FUSION CPS and CLS emergency lighting equipment can even detect the failure of a single chip, which significantly enhances the level of safety compared to normal LED safety luminaires with a single LED.
With their good thermal management and comparatively low power needs, the LEDs are designed for a service life well in excess of 50,000 hours.
Enhanced safety with our FUSION technology: Even if a single chip fails in the modern multi-chip LED, it can be detected.