The exhibition year 2022
Four times successfully exhibited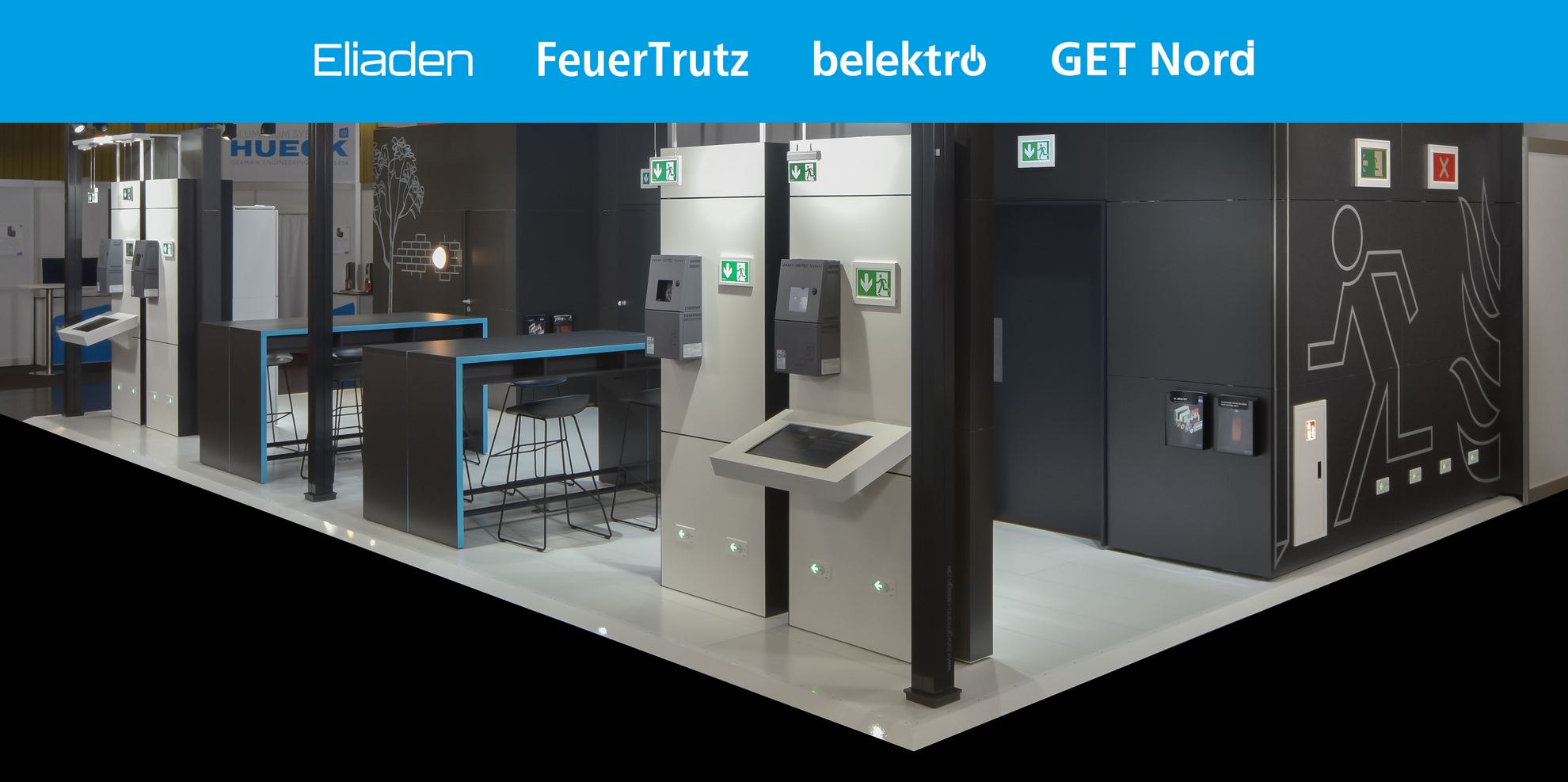 2022 was an extremely successful year for INOTEC in terms of trade show participation. We look back on four important industry events at which we inspired numerous visitors with our booth concept. They had the opportunity of examining the following products in detail, in particular: the CLS decentralized emergency lighting system and the CPS FUSION central battery system, the D.E.R. dynamic escape route guidance system, and the FL 2820 TFT escape sign luminaire. In addition, combined general and safety luminaires as well as escape sign luminaires with spotlights for locations to be highlighted, were also presented.
The highlight of our open, modern booth concept was the 'escape route tunnel', which allowed guests to experience the functions of various luminaires – sealed off from the exhibition hall lighting. The luminaires used were special constructions specially designed for the trade fair booth – by the way, we also offer such customized project solutions to our customers.
In the tunnel, various safety lighting and escape route scenarios were created in a realistic environment. In addition, the products were distributed on steles, which were equipped with touch surfaces in order to present the standard backgrounds to the guests in a clear and striking way. A spacious communication area was available for discussions and breaks and was very popular.
Eliaden – 31. May to 02. June – Lillestrøm
We began our trade fair year together with our brand representative NSE in Norway: Eliaden is one of the largest trade fairs in the country and one of the most important marketplaces in Scandinavia for the electrical engineering industry. International exhibitors – all industry giants were represented – meet thousands of decision-makers from the electrical engineering sector, make and maintain contacts and build business relationships. Technologies for the energy sector, for industry and for the construction sector are presented in three exhibition areas – thus the complete product and service spectrum of electrical engineering is represented. The trade fair spread over three halls was very well attended with over 20,000 visitors and was also a great success for Inotec.
Two special features characterized the trade fair appearance in Norway: Firstly, on the occasion of their 25th anniversary, we appeared together with our brand representative NSE at the jointly planned booth and presented a high-quality mural as a gift for the anniversary. Congratulations on a quarter of a century of successful work!
Secondly, due to a lack of personnel, our experienced booth builder was supported this year by three Inotec colleagues –Tim Posson, Christoph Faulstich and Eric Gejer – in setting up the booth. They mastered the challenge brilliantly, nevertheless, we are quite happy to be able to put this task in professional hands again in the future. A significant advantage of the set-up by the colleagues was that final suggestions for improvement and work on the booth could be implemented directly enabling a flawless trade fair appearance at FeuerTrutz, which followed shortly afterwards.
FeuerTrutz – 29. to 30. June – Nuremberg
Just after the booth in Norway had been dismantled it was off to Nuremberg, where Inotec was once again represented with the latest innovations displayed at FeuerTrutz. The trade fair for preventive fire protection with accompanying fire protection congress was well attended with around 4,300 trade visitors and congress participants from 30 countries as well as 206 exhibitors, which was also reflected in the number of visitors to our booth. It was particularly noticeable that the guests consistently enjoyed the personal face-to-face encounters again – finally without Teams, Zoom and the like.
We took advantage of the expansion of the trade fair, which this time took place in Halls 4 and 4A of the Exhibition Center Nuremberg, to triple the size of our booth and present our solutions around 'Dynamic Escape Routing' and 'Safety Lighting'. We also provided comprehensive information on the efficient illumination of escape and rescue routes as well as the standard illumination of places requiring special attention (DIN EN 1838). In addition, the guests were able to experience the latest system technology FUSION, where the function of dynamic escape route guidance is already integrated as standard. The CLS FUSION as a decentralized solution with complete elimination of functional integrity was again particularly well received. Our FL 2820 TFT escape sign luminaires were used to mark escape and rescue routes. These luminaires indicate flexibly, different escape directions in compliance with standards and can, for example, take into account the needs of people with physical disabilities.
belektro 2022 – 08. to 10. November – Berlin
In November, we continued with the regional trade fairs belektro and GET Nord, where our sales centres North and East were represented on site, as contact partners. This meant that the regional sales representatives responsible were at the booth for the guests and could answer questions about the products we presented.
At belektro, trade fair visitors were given a quick overview of current trends, first-hand information and contacts with regional partners from the electrical trade, wholesale and industry sectors. In addition to everything that drives the electrical engineering industry, belektro presented innovations from the fields of light and lighting, where Inotec's innovations were also to be found, building technology, decentralized power generation, e-mobility and much more.
GET Nord – 17. to 19. November – Hamburg
GET Nord, the only joint trade fair for electrics, sanitary, heating and air conditioning in Germany and the leading building technology trade fair in the north, marked the end of the trade fair year. Here, thanks to a unique trade fair concept, the various building services engineering trades were once again networked with architects, planners, wholesalers and industry. Over 600 companies, including Inotec, presented their latest products and innovative solutions on the topics of energy efficiency, renewable energies, energy management, building equipment and systems engineering.